Transfer Programs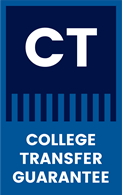 CT GUARANTEE
More Options, Made Easy
The Connecticut Independent College Transfer Guarantee (CT Guarantee) allows CT Community College associate degrees to transfer to a participating 4-year independent college in the state - admission guaranteed!
---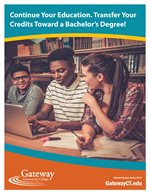 Continuing on after Graduation? Transfer your GCC credits towards a Bachelor's degree!
Gateway is committed to assisting students in obtaining their educational goals. Should those goals include transferring an associate's degree to a four-year institution, students may transfer to any college or university they choose. Students may have a lot of questions, such as whether their courses will transfer or whether they can change majors. If students have questions or are unsure of where to transfer for their bachelor's degree, they should check out the GCC Transfer On Guide and meet with an academic advisor in the GCC Student Success Center to develop a transfer plan.
---
Continuing on to a 4-year University?
Meet with representatives from participating Colleges and Universities on the GCC Fairway. Book your virtual appointment TODAY!
---
Articulation Agreements
GCC students have access to multiple articulation agreements with 4 year colleges and universities, which allows for a smooth transfer process and various incentives to continue your education. Meet with an advisor in the Student Success Center to learn more about agreements that align with your transfer goal(s).
Click here for the Office of Higher Education's page on public and private transfer programs throughout the state.
---

Connecticut's 12 community colleges, four state universities and Charter Oak State College have partnered to offer a low-cost pathway to a bachelor's degree. It's simple: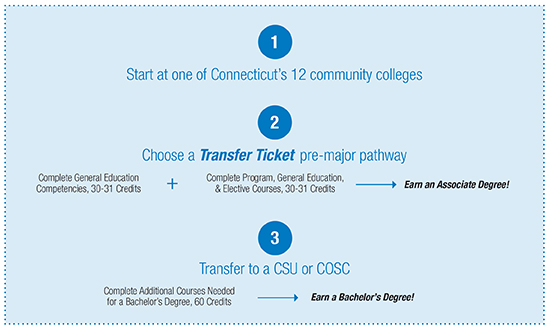 Students won't lose any credits or be required to take extra credits in order to complete a bachelor's degree in that same discipline. Not all Transfer Ticket associate degrees will be available at all colleges. All degree and transfer requirements, as well as other information, can be found at www.ct.edu/transfer.
GAP Program to University of Connecticut (UConn)
The Guaranteed Admission Program (GAP) is an agreement between the Connecticut Community College System and the University of Connecticut, designed for students who plan to earn a bachelor's degree in majors at UCONN's College of Liberal Arts and Sciences, select majors at the College of Agriculture, Health and Natural Resources, or the School of Business. To be eligible for the GAP program, students must have earned 30 or fewer transferrable credits at Gateway and be enrolled in GCC's Liberal Arts and Science degree program. To find out more about GAP or to sign up for the program, see Dr. Lauren Doninger, Room S124C or email .
Quinnipiac University Seamless Transfer Pathway
Seamless Transfer Agreement Partnership with Gateway Community College and Quinnipiac University! Current students or graduates of GCC will be guaranteed admission into a bachelor's degree program with third-year (junior) status at Quinnipiac provided that they graduate from GCC with an Associate in Arts, an Associate in Science, an Associate in Business, College of Technology Engineering Science, Nursing or an Allied Health degree and with a minimum cumulative GPA of 3.0 (this may be higher in specific programs).
Quinnipiac University Seamless Transfer Agreement Fact Sheet
College of Technology (COT) Engineering Pathway
The Engineering Science Pathway program allows community college students to follow an integrated curriculum at Connecticut's public and private colleges and universities, allowing individuals to begin their studies at Gateway Community College and progress directly into a bachelor's degree program at a 4‐year university. The curriculum consists of two distinct pathways: engineering and technology. For more information please contact Professor Susan Spencer, Room S401E, (203) 285‐2452. The student may transfer to the following institutions:
University of Connecticut
School of Engineering at the University of Hartford
School of Engineering at Fairfield University
School of Technology at Central Connecticut State University
Charter Oak State College
RN to BSN/MSN Pathway
Students completing their RN program at GCC have many options via system-wide articulation agreements. Graduates of the Connecticut Community College Nursing Program (CT-CCNP) have the opportunity to continue their education in a number of baccalaureate and advanced degree programs throughout the state and beyond. For a complete list, visit www.ct.edu/academics/nursing#agreements.
Transfer Course Equivalencies Links