Center for Students & Families
Mission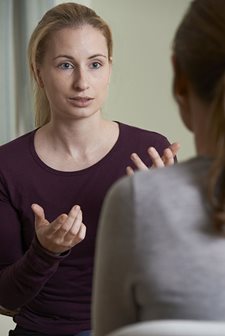 The mission of the Center for Student and Families (CSF) is to promote the well-being of students through case-management and support services. The Center for Student and Families strives to serve as an on-campus safety net to help students persist in college and gain stability.
The Program
Students who engage with the CSF enter into a hybrid program that involves basic case management, and Gateway's Achievement Coaching, to address both basic needs and student success. Students who enter the program are empowered to set their own goals and take steps toward stability, while obtaining support and building skills. The CSF Program helps students build necessary skills for student success, and to obtain additional support services both on-campus and in the community.
Core Services Areas
The Center for Student and Families partners with a number of on-campus departments and off-campus human services agencies to address the following core service areas:
Academics    Utilizing Gateway's Achievement Coaching model, the CSF empowers students to plan for lifelong career pathways. 
Work and Careers    Through a partnership with Career Services, students are encouraged to think about the connection between their academic courses of studies and chosen career paths. Some students choose to get real-time job experiences.
Financial Services/Asset Building    Through a partnership with local businesses, faculty, and on-campus programs, the CSF takes a proactive approach to assist students reach economic stability through financial education, wealth building activities, and bad credit avoidance.
Student Success & Academics    Through the Student Success Team (SST), students struggling with their academics are evaluated and encouraged to become better students through a series of different strategies. Some key elements that the SST focus on are:
Goal setting
Study skills
Time management
Note taking
Test anxiety & test taking
Learning styles
Income Supports, Public Benefits Screenings & Assistance    The CSF understands that in order to be successful, students' basic needs must be fulfilled. Through a series of screenings conducted through the Department of Social Services website, a member from our staff will assist students to determine whether they are eligible for assistance. After eligibility is determined, students are guided through the process of filling out applications for public assistance. This includes, but is not limited to:
Public benefits pre-screening (medical benefits, food assistance, cash assistance, and energy assistance screening)
Limited transportation resources*
Other limited resources as needed and available**
* The CSF may assist with transportation resources, but this is on a very limited basis. We are in the process of establishing a partnership with a food bank to schedule in-house disbursement to students in need. We are also in the process of establishing a partnership with the Community Action Agency of New Haven to set up on-campus screenings for assistance that our students may not be aware they qualify for.
** It is important to remember that Gateway is an educational institution that partners with local agencies and organizations. Resources such as housing and financial assistance are extremely limited in our geographic region, and most of our partners are not equipped to meet immediate and emergency needs.