Installment Payment Plan Overview
Spread the cost of tuition and fees over the term by enrolling in a tuition payment plan using our online payment plan system.
Enroll in a tuition payment plan easily over the web from MyCommNet.
View a list of charges, credits, and financial aid eligible for the plan on your online budget worksheet.
Authorize your parent, spouse, and anyone else you choose to access your account, sign up for a plan, or make a payment on your behalf.
Receive notifications sent to your student email as your plan adjusts to changes in your schedule.
Final payment is due by the 45th day of the semester, which falls in March for Spring semesters and October for Fall semesters. Students are required to pay the $25 installment plan fee, as well as 20%-25% of their charges upon enrollment. Equal payments of the remaining balance will then be due each month, up through the 45th day of the semester. The sooner you enroll in a payment plan, the smaller your monthly payments will be.
If you have completed a FAFSA application and are eligible for aid but are waiting on your financial aid package to be processed, you are eligible to enroll in the Pending Financial Aid Deferred Payment plan. To enroll in this plan, you must email

your FAFSA confirmation email OR your Student Aid Report. You will only have to pay the $25 installment plan fee online and your deferred tuition due date will be on the 45th day of the semester, which is typically after financial aid will have been dispersed. You will then either owe nothing, or a smaller balance that aid has not covered. If for some reason you do not receive aid, all your charges will be due on the deferred due date.
Benefits of the IPLAN
FAST Enrolling in tuition payment plans is easy. Simply log into Self Service through myCommNet to enroll.
SECURE Pay online using a credit card knowing your information is secured using industry-leading security features.
CONVENIENT Need to know if your IPLAN has changed? Check your student email. Our payment plan system will notify you any time your installments increase or decrease. Want to make a payment during a study break at the library? No problem. Access your online plan through a web browser anywhere, any time. Need to give someone else access to your student account? It's a breeze. Now you can authorize someone else to enroll in the plan, receive payment reminder emails, or make payments on your behalf.
INEXPENSIVE Tuition payment plans are an inexpensive alternative to a student loan or paying by credit card. Enrolling in a plan costs just $25 per semester.
Financial Aid Not Enough?
If your authorized financial aid isn't enough to cover your entire balance, we have a plan for you too! You can sign up for an installment plan for the amount you need to pay out-of-pocket without any additional down-payment now. On this plan, the balance won't be due until after financial aid is disbursed, giving you more time to save. Please note: You will be responsible for any balance not covered by your award, should it be subsequently reduced or rescinded.
Enrollment Instructions
If you wish to enroll in a payment plan, here is a quick guide to get you started:
1. Log into myCommNet and click "Banner Self-Service"
2. Click: "Billing/Payment"

3. Click: "My Account/Payment Information" box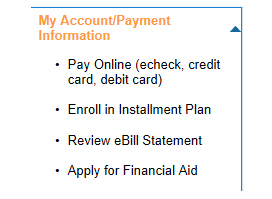 4. Click: "Student Account and Payment Center"

5. Click: "Student Account and Payment Center" button
​

6. Click: "Payment Plans" on top menu bar
​

Follow the prompts to calculate your installments, develop a payment schedule, and make your first payment with just a few easy clicks.

Payment Reminders
Students and/or their authorized payers will receive an email to remind them of payments due 7 days prior to the due date. Reminders to students will ONLY be sent to the student's college email account.
What happens to my account balance if I drop or withdraw?
You may still owe a balance on your IPLAN, even if you have reduced your course load or withdrawn. Therefore, students are strongly advised to contact the Bursar Office first to determine the impact, if any, your schedule change will have on your account balance.
College Service, Student Activity, and Clinical Fees are NONREFUNDABLE. No credit will be applied to your account, regardless of when you drop—EXCEPT that you may request full credit for the clinical fees if you drop out of an allied health program entirely or are not enrolled in any credit course at the end of the add/drop period.
Workforce Development & Continuing Education and other non-credit instructional charges are subject to the following fund policies:
If you officially drop on the last business day before the first class meeting or prior, your account will be credited with 100% of these charges. Requests must be made by Friday for courses starting Saturday-Monday.
If you officially withdraw on the day of the first class meeting or later, NO CREDIT will be applied to your account.
All other fees not listed above, including Application and IPLAN enrollment fees, are NONREFUNDABLE. No credit for these charges will be applied to your account regardless of when you drop.
Important Notice Failure to adhere to the college's payment deadlines can subject your entire registration to cancellation. Prior to the start of the semester, drops for nonpayment are performed regularly by the college. Without exception, once your registration is cancelled you won't be able to re-register unless there is space available in the class. The college also reserves the right to place a hold on your account if it exhibits excessive drop for non-payment activity.