Clery Act Policy, Program and Procedure Disclosures
Gateway Community College
Department of Public Safety
---
JEANNE CLERY DISCLOSURE OF CAMPUS SECURITY POLICY
AND
CAMPUS CRIME STATISTICS
ISSUED 2022 FOR THE YEAR 2021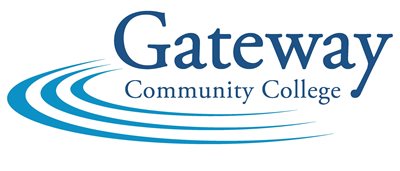 Submitted by: Sergeant Cary Broderick and Director of Facilities Brian Higney
History of the Clery Act
* The Jeanne Clery Disclosure of Campus Security Policy and Campus Crime Statistics Act of 1990 (34CFR668.46), also known as the "Clery Act", is a federal law that requires colleges and universities to disclose information about crime on and around their campuses. The act is named in memory of Jeanne Clery, a 19-years old Lehigh University freshman who was assaulted and murdered in her residence hall on April 5, 1986. This report has been prepared to meet the requirements of this act.
Clery Reporting
GCC PD prepares and publishes the annual Clery report for campus crime statistics. The reports are published and distributed annually as well as posted digitally on the college website for public disclosure. GCC PD is responsible for collecting statistics, identifying crimes, reporting crimes to the FBI and the department of education, and publishing statistics per federal law.
Campus Law Enforcement
MISSION STATEMENT
The Goal of the Department of Public Safety is to build relationships within the college campus and surrounding communities, dedicated to providing a safe haven for learning. This goal is accomplished by providing fair, honest, impartial police service to the college community and the public.
VALUES
Values are ethical statements of the principles which bind us together as an organization. Values form the ethical basis for our decision making. As a group and an organization, we subscribe to these values:
Integrity: basing our decisions on what is legally and ethically right, safeguarding the legal rights, privileges and dignity of all people.
Trust: maintaining the highest level of trust and honesty with those we serve by holding ourselves to the highest standards of performances.
Commitment: exhibiting the spirit of determination and dedication that leads to professionalism and the achievement of excellence in every endeavor.
Courage: sustaining the mental, moral and physical strength necessary to carry us through the challenges of policing.
COLLEGE POLICE FORCE DESCRIPTION
The GCC Police Department personnel includes a POST Certified Police Sergeant. He has full powers of arrest. GCC is currently in the search process of hiring for a POST Certified Police Officer. Additionally, there are thirty-one (31) contracted Public Safety Officers. GCC hires at least one active City of New Haven Police Officer (extra duty) on a daily basis during the college's hours of operation.
Procedures for the Reporting of Criminal Offenses:
To report a crime, contact Campus Police/Public Safety at (203) 285-2246 (non-emergencies), dial 911 (emergencies only), or use the Code Blue telephones located in the Halls, Parking Garage, or on the exterior of both North and South buildings. Any suspicious activity or person seen in the parking lots, loitering around vehicles, inside buildings, or around buildings on campus, should be reported to the Police/Security Department. In addition, you may report a crime to the following:
Police and Public Safety N105 (203) 285-2246
Director of Human Resources, N324 (203) 285-2534
For off-campus options, you may refer to the current Student Handbook. College Police and the New Haven Police Department have a mutual aid and assistance agreement. Each department augments the other within their jurisdictions doing mutual investigations, arrests, and prosecutions. College police personnel attend weekly meetings with local law enforcement agencies to exchange ideas and problems which may be of concern for the College community. Crime Reporting
The College Police/Public Safety and the College Community encourages anyone who is the victim or witness to any crime to promptly report the incident to the police or Public Safety. Because police reports are public records under state law, the College Police Department cannot hold reports of crime in confidence. Confidential reports for purposes of inclusion in the annual disclosure of crime statistics can generally be made to other college campus security authorities, as identified below. Confidential reports of crime may also be made to Crime Stoppers at (203) 285-2246. Voluntary Confidential Reporting Procedure
The Wellness Center offers holistic wrap-around case management services in an inclusive and judgement free environment to support Gateway's overall mission and purpose.
We are committed to supporting students' development in problem solving skills, coping techniques and self-advocacy.
Services include:
Solution Focused Brief Counseling (SFBC) to support the needs of GCC's diverse population;
Crisis Intervention Counseling and referral services;
Comprehensive campus wide programs to support students in mind, body and spirit;
Case management services to address basic needs, financial stability and access to public benefits screenings
All counseling sessions are provided in a supportive, empathetic, collaborative and confidential environment.
---
Campus Security Authorities
The Clery Act defines a campus security authority as:
A member of the GCC Police department or a Public Safety department of an institution.
Any individual or individuals who have responsibility for campus safety but who do not constitute the GCC Police department or a public safety department (e.g., an individual who is responsible for monitoring the entrance into institutional property).
Any individual or organization specified in an institution's statement of campus safety policy as an individual or organization to which students and employees should report criminal offenses.
An official of an institution who has significant responsibility for student and campus activities, including, but not limited to, student housing, student discipline and campus judicial proceedings. (An official is defined as any person who has the authority and the duty to take action or respond to particular issues on behalf of the institution.)
At GCC, the Campus Security Authorities are:
| | | |
| --- | --- | --- |
| Title | Division | Extension |
| CEO | | 5-2021 |
| Dean | Student Affairs | 5-2210 |
| Dean | Academic Affairs | 5-2077 |
| Dean | Development and Community Partnerships | 5-2323 |
| Associate Dean | Campus Operations | 5-2408 |
| Associate Dean | Public Affairs and Marketing | 5-2065 |
| Director | Workforce Development | 5-2300 |
| Director | Automotive | 5-2370 |
| Director | Student Activities | 5-2208 |
| Director | Facilities | 5-2611 |
| Director | Early Learning Center | 5-2130 |
| Director | Human Resources | 5-2534 |
| Counselor | Advising- Counseling Services | 5-2090 |
| Administrative Assistant | Administrative Affairs | 5-2022 |
| Administrative Assistant | Student Affairs | 5-2212 |
| Associate | Human Resources | 5-2537 |
| Coordinator | Facilities | 5-2611 |
| Assistant | Academic Affairs | 5-2075 |
| Administrative Assistant | Academic Affairs | 5-2407 |
| Coaches | Student Development | 5-2213 |
| Student Accessibility Services | Student Affairs | 5-2234 |
---
---
Timely Warnings
INCIDENT COMMUNICATIONS PLAN
Mass notification systems, procedures and equipment have been upgraded to include public address notification, IP phone system and numerous social media sites. I.e. Facebook, Twitter. Expansion of these technologies is ongoing. Through a memorandum of understanding "MOU" with the City of New Haven Police Department, Yale University Police Department and the Southern CT State University Police Department allows the GCC Police Sergeant constant communication with the above-mentioned Police Department via the police radio. The Police Sergeant has been given the designated call number "GW1" by these departments.
GCC now utilizes Mutual Link which is a secure, interoperable communications system which links New Haven PD, Yale PD, Southern Conn PD and GCC PD through radio and video technology.
Incident Warning – It is the policy of Gateway Community College to make notifications as rapidly as possible regarding what is known about a potential problem. Communication staff are responsible for timely updates to students, employees and visitors regarding the emergency situation.
Depending on the level of the incident, the communication plan varies, however the majority of incident warning/communication is provided below. In the event that technology or an audible alarm are not available or deemed the best approach, a person-to-person notification system is utilized.

Public Address Announcement to campus community by the telephone's emergency notification paging system

Text messaging utilizing the myCommNet alert system

E-mail notification to the system office and campus community

Voice mail notification to campus community

GCC website and social media messaging

Radio and television announcements
To ensure that accurate, factual information is provided to the media in a timely matter, all media correspondence is handled by the college's Marketing and Public Relations Director. The Director works in collaboration with the staff at the system office to ensure all requests are responsive and considerate of individual rights and campus responsibility. Again, knowing time is of the essence, the Director will notify (and respond to) the media as rapidly as possible given the incident.
Hospitals/Health Providers
In the event of a medical emergency, GCC PD dispatch communicates with New Haven Fire Department and Yale New Haven Hospital.
Local Residents/New Haven PD
New Haven Police Department (NHPD) is notified depending on the level of emergency and need for additional assistance. In the event of a critical emergency, the NHPD is notified in the immediate moments. NHPD with the GCC PD and New Haven Fire Department (if called in) make the decision to broadcast a message on the Emergency Notification Paging System which would alert area residents.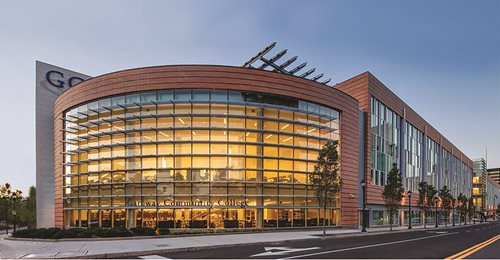 OVERVIEW OF INGRESS/EGRESS
There are seven main points of entry and exit at Gateway Community College. All seven entrances are staffed by contracted Security Officers who are not armed. The South Building main entrance is located on George Street just west of Church Street. The North Building main entrances are located at the corner of George Street and Church Street, Church Street and Crown Street, and two from the Gateway garage 1st and 3rd floors. There is also an Early Learning Center entrance, in our South Building which is located on Temple Street just south of George Street and is exclusively for parents dropping off or picking up their children. The entrance for autos entering into the Gateway Community Garage is located on Crown Street just west of Church Street.
The Higgins Identification system "People Track" which has been updated to the point that all faculty, staff and students attempting to enter the building must place their I.D. on the identification reader. This system allows Public Safety to know whether the student is currently enrolled or if the person is no longer a student of the college. The state of the art equipment allows us to keep track of all people entering the college.
---
Security Awareness Programs
During orientation, students are informed of services offered by the Campus Police and Public Safety Department. An oral presentation outlines ways to maintain personal safety and security. Students are told about crime on-campus and in surrounding neighborhoods. Similar information is presented to new employees through the Employee Manual. Crime Prevention Programs and Sexual Assault Prevention Programs are offered on a continual basis. Periodically during the academic year, the City of New Haven Police, in cooperation with other College organizations and departments, presents crime prevention awareness sessions on sexual assault (rape and acquaintance rape), Rohypnol abuse, theft, and vandalism, as well as educational sessions on personal safety and security.
Lock down/active shooter drills are done twice a semester.
Fire drills are done once a semester.
Lock-Down/Shelter-in-Place
A lock-down condition may be required for a number of different types of emergencies, such as a hostile intruder, violent or weapons situation, a chemical spill or plume, severe weather or civil unrest. Lock-down announcements are given in English only over the building Emergency Telephone Notification System and/or the Fire Alarm Annunciator System.
IF A HOSTILE INTRUDER IS PRESENT ON CAMPUS,
quickly determine the most reasonable way to protect your own life. A hostile intruder situation can change rapidly. In addition to being aware of your surroundings and escape routes, thinking about how you will react to a hostile intruder situation in advance will help you act quickly and efficiently. Take time to understand your surroundings and environment then make a plan.
During an active shooter or hostile intruder event, there are three choices an individual can make:
RUN… If possible, run to an exit, evacuate the building and get to a safe location – this is your first option. If a safe exit is available, take it immediately. Warn others of the impending danger and encourage them to come with you, but do not let them slow you down.
HIDE…
If a safe escape is not possible, proceed to the nearest office or classroom until help arrives or safe exit is available. Close, lock and barricade doors and windows, turn off lights, hide behind something thick, and silence cell phones. Call 911 (8-911 from college phones). Your goal is not only to stay out of sight, but to prevent the shooter from reaching you. Barricades also distract the shooter, allowing more time for you and responders. Do not answer the door or respond to voice commands until you are sure they are coming from police or other legitimate responders. Stay: calm, quiet, wait.
FIGHT…
As a last resort, and only if your life is in danger, you may choose to fight. Be aggressive, used improvised weapons (fire extinguishers, scissors, hot coffee, glass containers or anything else available), and commit your actions. Fight as a group if possible. This action also distracts the shooter and allows time and opportunity for the police to act. Further information on GCC Emergency Procedures can be found in the Emergency Guidebook. This is located on the GCC website.
GCC POLICIES
Drugs & Alcohol Policy
The Board of Regents for Higher Education in Connecticut endorses the statement of the network of colleges and universities committed to the elimination of drug and alcohol abuse, which is based on the following premise:
American society is harmed in many ways by the abuse of alcohol and other drugs – decreased productivity, serious health problems, breakdown of the family structure, and strained social resources. Problems of illicit use and abuse of substances have a pervasive effect upon many segments of society – all socioeconomic groups, all age levels, and even the unborn. Education and learning are especially impaired by alcohol abuse and illicit drug use.
The Board recognizes that education regarding alcohol and substance abuse is an appropriate and even necessary part of contemporary college life. Since the unauthorized use of controlled substances, in addition to the potentially harmful effect it may have on students and employees, in contrary to state and federal law and regulation, it must be prohibited in any college activity, on or off the college campus.
Although the conditions of alcohol and drug dependency may be considered disabilities or handicaps under state and federal law and regulation and Board of Regents policy, and employees and students will not be discriminated against because they have these disabilities, all students and employees are considered to be responsible for their actions and their conduct.
Statement of the Network of Colleges and Universities Committed to the Elimination of Drug and Alcohol Abuse
These provisions shall apply to all colleges under the jurisdiction of the Board:
No student or employee shall knowingly possess, use, distribute, transmit, sell, or be under the influence of any controlled substance on the college campus or off the college campus at a college-sponsored activity, function, or event. Use or possession of a drug authorized by a medical prescription from a registered physician shall not be a violation of this provision.
All colleges shall develop and enforce policies regarding the sale, distribution, possession, or consumption of alcoholic beverages on campus, subject to state and federal law. Consistent with previous board policy, the consumption of alcoholic beverages on campus may be authorized by the president subject to the following conditions, as appropriate:
a. when a temporary permit for the sale of alcoholic beverages has been obtained and dram shop act insurance has been purchased
b. when a when a college permit has been obtained
c. when students bring their own beverages
d. when alcoholic beverages are provided by a student organization and no fee is charged for attendance or for said beverages
All colleges shall provide educational programs on the abuse of alcohol and other drugs and referral for assistance for students and employees who seek it. Colleges are encouraged to establish campus-wide committees to assist in development of these programs in response to particular campus needs and identification of referral resources in their respective service planning regions.
This policy shall be published in all college catalogs, faculty and staff manuals, and other appropriate literature.
Failure to comply with this policy will result in invocation of the appropriate disciplinary procedure and may result in separation from the college and referral to the appropriate authorities for prosecution.
DRUG-FREE WORKPLACE
U.S. Department of Education regulations published on January 31, 1989, implementing the Drug-Free Workplace Act of 1988 require any agency awarded federal grants after March 18, 1989, to provide certification that it will maintain a drug-free workplace. To this end, Gateway Community College certifies that it will provide a drug-free workplace by:
A. Publishing a statement notifying employees that the unlawful manufacture, distribution, dispensing, possession or use of a controlled substance is prohibited in the grantee's workplace and specifying the actions that will be taken against employees for violation of such prohibitions;
B. Establishing a drug-free awareness program to inform employees about:
The dangers of drug abuse in the workplace
The college's policy of maintaining a drug-free workplace
Any available drug counseling, rehabilitation, and employee assistance programs, and
The penalties that may be imposed upon employees for drug abuse violations occurring in the workplace
C. Making it a requirement that each new employee be given a copy of the statement noted above;
D. Notifying the employee in the statement required by the above paragraph that, as a condition of employment, the employee will:
Abide by the terms of the statement, and
Notify the employer of any criminal drug statute conviction for a violation occurring in the workplace no longer than five days after such conviction;
E. Notifying the agency within ten days after receiving notice under sub-paragraph (D) (2), from an employee or otherwise receiving actual notice of such conviction;
F. Taking one of following actions, within 30 days of receiving notice under subparagraph (D) (2), with respect to any employee who is convicted:
Taking an appropriate personnel action against such an employee, up to and including termination, or;
Requiring such employee(s) to participate satisfactorily in a drug abuse assistance or rehabilitation program approved for such purposes by a federal, state, or local health, law enforcement, or other appropriate agency;
G. Making a good faith effort to continue to maintain a drug-free workplace through implementation of paragraph (A) through (F).
SEXUAL ASSAULT PREVENTION & RESPONSE
The College educate the student community about sexual assaults and date rape through educational programs and information throughout the academic year. The Police/Public Safety and the Counseling and Student Success Center Department offers sexual assault education and information programs to College students and employees upon request. Literature on date rape education, risk reduction, and College response is available through the Counseling and Student Success Center.
If you are a victim of a sexual assault at this College, your first priority should be to get to a place of safety. You should then obtain necessary medical treatment. The College strongly advocates that a victim of sexual assault report the incident in a timely manner. Time is a critical factor for evidence collection and preservation. An assault should be reported directly to a College Police/Public Safety officer. Filing a report with a College Police/Public Safety officers will not obligate the victim to prosecute, nor will it subject the reported victim to scrutiny or judgmental opinions from officers. Filing a police report will ensure that a person who reports being a victim of a sexual assault:
Receives the necessary medical treatment and tests without expense to them
Provides the opportunity for collection of evidence helpful in prosecution, which cannot be obtained later (ideally, a victim of sexual assault should not wash, douche, use the toilet, or change clothing prior to a medical/legal exam)
Assures the reported victim has access to free confidential counseling from counselors specifically trained in the area of sexual assault crisis intervention
POLICY STATEMENT ADDRESSING SEX OFFENDER REGISTRATION
In accordance with the "Campus Sex Crimes Prevention Act" of 2000, which amends the Jacob Wetterling Crimes Against Children and Sexually Violent Offender Registration Act, the Jeanne Clery Act, and the Family Educational Rights and Privacy Act of 1974, the College Police/Public Safety Department provides a link to the Connecticut State Police Sex Offender Registry. This Act requires institutions of higher education to issue a statement advising the campus community where law enforcement information provided by a State concerning registered sex offenders may be obtained. It also requires sex offenders already required to register in a State to provide notice of each institution of higher education in that State at which the person is employed, carries a vocation, or is a student. In the State of Connecticut, convicted sex offenders must register with the Sex Offender Registry maintained by the Connecticut Department of Public Safety, Division of State Police, Sex Offender Registry Unit, pursuant to Connecticut General Statutes 54-250. The Sex Offender Registry information provided under this law shall be used for the purposes of the administration of criminal justice, screening of current or prospective employees and volunteers, or otherwise for the protection of the public in general and children in particular. Unlawful use of the information for purposes of intimidating or harassing another is prohibited and a willful violation shall be punishable as provided by law. The Connecticut State Police is responsible for maintaining this registry. Follow the link below to access the Connecticut State Police website: www.ct.gov/dps/site/default.asp
PROGRAMS & CAMPAIGNS
Red Flag Campaign
The Red Flag Campaign is a way to use bystander intervention to make people aware of sexual assault, intimate partner violence and stalking. Students wrote down different situations and sayings that would be a warning sign to someone, hence a red flag. The goal is for those who do not know what a warning sign/red flag looks like to learn and become more aware. Student can read the different red flags that are posted and this can help them to learn what is unhealthy. This was sponsored by the Gender Equity Center.
Fresh Check Day
Fresh Check Day is a program that focuses on different ways to engage students to discuss the topic of mental health. The Gender Equity Center hosts a table that offer a number of different activities that Gateway community members could participate in such as the Clothesline Project, the Red Flag Campaign, and the Bystander Pledge. They also offer information on seeking services on and off campus.
Bringing In the Bystander
Bringing In the Bystander is a program that is for college students that addresses the topic of being a positive bystander. The program educates students on how they can stop a potential sexual assault from happening or how to have the difficult conversation when someone says something inappropriate. Bringing In the Bystander provides students with different tools that they can use to allow them to make a difference. This was sponsored by the Gender Equity Center.
Healthy Relationships
A member from the local domestic violence center came to speak to different classes in both the fall and spring. She spoke about healthy relationships and how sexual assault, stalking, and intimate partner violence can be involved in unhealthy relationships. The goal of Healthy Relationships is to get the students to understand that there are a number of different factors that can make a relationship unhealthy and there are services out there for those who are involved or know someone who is involved in an unhealthy relationship.
Blue Lights
Gateway's campus has the Blue Light system throughout the campus that allows anyone to call security for immediate assistance in case of an emergency of sexual assault, stalking, intimate partner violence, and more.
I Choose
I Choose focuses on making positive life choices that don't involve violence. It stems from the idea that violence is a choice – and with the right mentors and the right tools. People can choose to rise above domestic violence. The I Choose campaign is about working towards educating people about making good life choices: "I Choose respect;" "I Choose not to normalize violence towards women;" "I Choose to take a stand against domestic violence." Understand that having successful role models, can allow people to begin to understand how good choices can result in life affirming successes.
---
---
---
---
GENERAL EVACUATION PROCEDURES
In the event of an obvious emergency (fire, gas leak, certain types of bomb threats, etc.) requiring immediate evacuation, the fire alarm alert system will sound consisting of an audible horn and visual strobe alarm with automated verbal notification. Announcements of the need to evacuate the building are typically made via the fire alarm notifier PA system, but may also be made over the emergency telephone notification system, via email, and through personal staff contact. Announcements will be made in English only.
EVACUATION PLAN
Everyone in the building must evacuate when an alarm sounds and/or upon verbal notification by authorized personnel.
All persons in classrooms should be directed to move in an orderly manner to the designated exits posted on the Emergency Action Plan located on the wall of the room's egress.
If time and safety permits, close all doors.
If your assigned exit is blocked, keep calm and seek nearest exit.
When outside of building, proceed away from the building, and if able, make your way to the Knights of Columbus grounds (park area or rear parking lot) located directly across the street from the college on Church Street.
The Early Learning Center evacuate to the Temple Street Garage.
Gateway Garage evacuate to the Crown Street sidewalk.
Persons with a physical/mobility disability, who cannot exit the building, should proceed to the nearest area of refuge where they shall wait for the emergency personnel to arrive and evacuate them. The areas of refuge are as follows:
North Building: Stairwell G, behind fire doors floors 1-4, and lower level
South Building: Hallway Stairwell D, behind fire doors floors 1-4
Library: Stairwell J, behind fire doors floors 1-2
If you become trapped inside the building, stay near the floor and shout at regular intervals to alert rescue personnel of your location.
Stay together as a group. Notify 911 of any persons with a disability requiring assistance. If possible to do so safely, have someone stay behind with persons with disabilities until emergency personnel arrive.
Once evacuated:
Stay out if roadways and areas utilized by emergency personnel.
Remain outside of the building until the security staff authorizes re-entry.
RESPONSE TIME FOR EMERGENCY SERVICES
The expected response time for the New Haven Police Department and New Haven Fire Department is 3-5 minutes which is not taking into account a weather related happening or a manmade disaster that is ongoing. Additionally, the average response time for the Connecticut State Police is twenty-five minutes according to the recent security assessment by Elert and Associates.
---
Safety and Security Surveys